Back
Jean Marie Dael
1909 - 1945
Edit
Born 1.1.1909 in Venlo
Died 9.3.1945 in Mauthausen
Biography
The brothers Jan and Leo Dael came from a large Catholic family. Leopold Dael Sen. and his wife Helena Maassen had nine children: four boys and five girls. Leopold was an energetic and successful entrepreneur in the food industry, in hospitality and in transportation, as well as owning property in the centre of Venlo. He had means enough to give his sons an education – his eldest son became a doctor – or to help them on their way in business. Leo was a trained car mechanic and before his marriage he worked as a truck driver for the Venlo transport company Janssen Boten en Auto's (Janssen Boats and Cars). His wedding gift on his marriage to Henriette Hostermans from his father was a car in order to start up his own taxi business. Leo and Henriette had four children between 1929 and 1937 – three daughters and a son – which made it increasingly difficult for Leo to provide for his rapidly expanding family from the limited income from his one-man business. In order to supplement his income he worked as a night-watchman.
Jan Dael dropped out of grammar school early and tried his hand at various jobs and trades. Among others he worked in a hotel, as a chauffeur and as a cook before finally finding his calling in the bookshop and library De Boemerang (The Boomerang) purchased by this father. The bookshop was located on Geldersepoort very close to where his father lived with his second wife. Leopold Dael had been widowed in 1933 and had married Elisabeth van Well two years later. Jan himself married Catharina Dörge in 1930. Over the following 13 years they had two sons and four daughters.
As a declared patriotic and decidedly anti-German family, the Daels joined the resistance during the war. Leo worked as a night-watchman at a school commandeered by the Germans as a duty station – a place of decided strategic importance to a resistance man. The brothers acquired various ID cards and ration cards with which they helped those in hiding and stranded English pilots.
Although Jan did not join the armed resistance, he put his house at the disposal of the KP group, since a lot of people coming and going was less conspicuous in a shop. His shop was the base for actions such as the attack on the Venlo register of residents. At the same time those in hiding found hospitality and shelter at Jan's house. Since the same spirit of resistance prevailed in the children as in the parents, it was natural for the Dael family to take their daily meals surrounded by a large company of guests.
However, during this time the house on the Geldersepoort was being observed from the café opposite, which led to the capture of the relentlessly-sought KP member and helper of pilots Toon Mooren,[1] who was staying with the Dael family. After an armed attempt to free him from the police station failed, Jan tried to bribe a policeman to achieve his aim. But this became known and in the early morning of 24 May 1944, Jan was fetched from his bed. It was one of the few nights he had slept at home and not, for reasons of security, elsewhere. At the same time Leo was fetched from his house on Veldenseweg.
The two brothers were locked in the Venlo police station where they realised that their sister Jet had also been taken prisoner. The following day all three were handed over to the Sicherheitsdienst (Security Service) in Maastricht. They were interrogated for a week, after which Jet Helsen-Dael was able to return to her husband and five children. Her brothers were taken to Vught and, on 6 September, were transported to Sachsenhausen. On 16 February 1945, on a transport which also contained Toon Mooren, they arrived at Mauthausen, where Jan and Leo died in quick succession. They were 36 and 37 years old.
Shortly after the war Jan's widow received documents from both the Americans and the English in which they expressed their thanks for her husband's support of the Allies. On 5 February 1982 he was posthumously awarded the Resistance Memorial Cross. The names of Jean-Marie and Leopold Dael are included on the honour roll of the fallen for 1940–1945. Furthermore, at the beginning of the 1990s, in a new district in Venlo dedicated to heroes of the resistance, a street was named after the Dael brothers.
Henny E. Dominicus
Stichting Vriendenkring Mauthausen
Translation into English: Joanna White
---
[1] Antonius Lodewijk Joseph Mooren; born on 19 March 1923 in Vierlingsbeek, died on 5 March 1945 in Mauthausen.
Files
Send information about this person...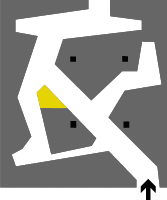 Location in room
Print version